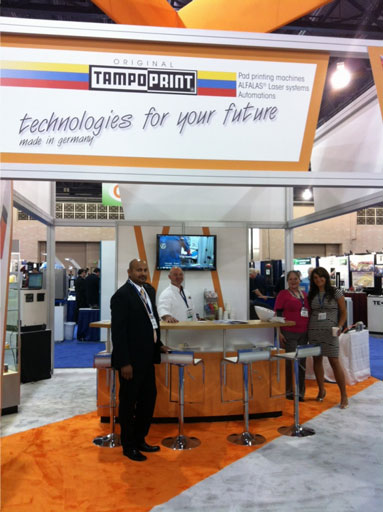 As the exclusive Canadian partner of TAMPOPRINT® Germany, we have been servicing the Canadian pad printing market for almost three decades. Our focus is to provide the market with pad printing machinery and the essentials of pad printing, such as inks, printing pads, cliches/plates, thinners, solvents and additives and, most importantly, technical knowledge and service.

TAMPOPRINT®'s extensive knowledge in the field of pad printing has allowed us to offer and support the industrial market with unique pad printing as well as laser marking and automations.

Thank you for visiting our website. We hope that you find all of your answers and solutions with us. Should you have any questions or technical issues to be resolved, please feel free to contact our in-house support team.

TAMPOPRINT® GmbH is an international company founded by Wilfried Philipp, inventor of the first industrial-use pad printing machine. He opened the first TAMPOPRINT® office in Germany in 1968. Due to the high quality of his products and our experience in customizing systems for specific needs, TAMPOPRINT® now has offices all over the world.

Below is an article on the history of how industrial tampon/pad printing was developed.

The predecessor of the tampon printing procedure used today is the "Decalcier process," as it is known in the Swiss watch making industry. This manual printing procedure for the decoration of clock faces that used gelatine pads was not very efficient because the gelatine pads' durability was limited to only a few printing processes. Philipp, the inventor, focused on this topic in 1965.

Philipp used this common method for his own trials with different material mixtures and managed to produce pads (transfer media) on a silicone rubber base, which combined a series of good printing characteristics. The result was a very durable, flexible and solvent-resistant printing image transfer media – the cold vulcanized silicone pad.

It was the invention of the tampon that opened up completely new decorating and marking options for tampon printing. Until then, it required great effort to realize multi-color print images (via time-consuming intermediate drying of the individual colors), but with this new sensational invention, the wet-in-wet print was now enabled (using solvent-containing inks).

Philipp was already dedicated to the construction of a mechanical tampon printing machine for the printing of clock faces in 1965. The experience he gained was incorporated into the further development, and the first tampon printing machine was operating by 1968.

This machine, the first electromechanical tampon printing machine, caused a real sensation when it was presented at K'71 in Düsseldorf in 1971. Up until this time, printing on three-dimensional and curved plastic products (e.g. packaging, roll-on deodorants, etc.) was not possible.

Nothing could stop the revolution in the design and marking industry when industrial tampon printing began. The first large order came from the centre of the Swiss watch making industry in Jura, Montreux: 100 tampon printing machines. Delivery of the first tampon printing machine was affected three months later.