Printer Ink Solvent & Thinners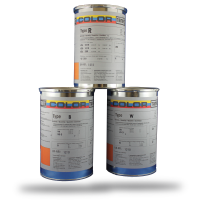 Tampo Canada Inc. carries a large selection of standard, highly opaque inks, additives and printer ink solvents specially formulated for the product decorating industry. These top-quality pad printing inks are available in single or two-component forms, plus UV-curable and sublimation types. This enables adhesion to various substrate materials, including plastics, metals and coated finishes.
All of our pad printing inks are supplied in medical-grade non-toxic (NT) formulations with reduced levels of heavy metals to meet CONEG and RoHS standards. Most ink types include up to 23 standard colours plus metallic, process and custom colours. Tampo Canada Inc. offers ink in two separate systems with any one of our ink types:
Standard Inks
The 23 standard and special ink shades available from the TAMPOPRINT® GmbH warehouse in Germany are premixed ink shades which already cover a number of applications. This area also includes European ink shades for halftone 4-colour printing (CMYK) as well as gold and silver (exception: ink types C and E).
We also provide custom colour-matched inks pad printing inks in any one of our ink types. Please send us a sample and/or provide us with a Pantone or RAL colour number in order for us to formulate.

Basic Inks
Using 12 basic inks, we offer our customers the option of mixing their own special ink shades. We will be happy to advise you or provide you with a wide range of recipes. Our ink mixing system according to RAL and Pantone is available online as an Acrobat PDF file (coming soon). HKS ink mixing system is available upon request.

Solvents & Thinners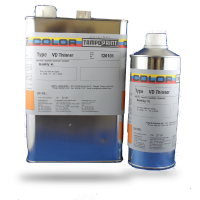 We offer a wide variety of pad printer ink solvents: fast, medium, or slow for the particular ink type and setup you are running.
Our Plastic Parts Cleaner is a specially developed formula for cleaning misprints on your product without physically damaging the part. It works very well on Poly Carbonate, ABS and Styrene materials, but can be used on almost all products without harm.