We carry over 1000 different standard printing pad shapes and sizes. Some of our most popular printing pads include silicone printing pads, TAMPOPRINT® Standard and Antistatic pads and rotary pads. Choose from a wide range of the highest quality silicone printing pads, designed specifically for industrial pad printing applications. Since each product decoration is unique, there are many different shapes and sizes of printing pads to choose from. All pads are available in five levels of durometer hardness and in two kinds of silicone rubber: TAMPOPRINT® Standard and TAMPOPRINT® Antistatic.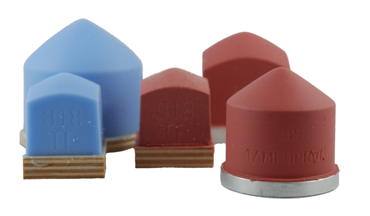 Hardness
Silicone printing pads are produced in a range of hardness (also known as Durometer), measured in terms of durometer "shore" in a A or OO scale. The backing of the pad back is colour coded to differentiate the hardness of the pad in A scale from TAMPOPRINT®.
| Tampoprint Hardness | Hardness | Colour Base | Recommended Parts |
| --- | --- | --- | --- |
| Hardness 2 | Shore 1 | Blue | Extremely Sensitive Parts |
| Hardness 3 | Shore 3 | Red | Sensitive Parts |
| Hardness 4 | Shore 6 | Green | Standard Parts |
| Hardness 5 | Shore 12 | White | Textured Surfaces |
| Hardness 6 | Shore 18 | Black | Large Surfaces |
Send us a sample of the part to be printed on, and we will recommend the right pad for the job or customize one to your specific needs.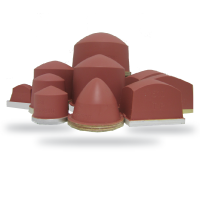 TAMPOPRINT® Standard Pads
Standard silicone printing pads are recommended for long-run print jobs with minimal changeovers. This is one of our most popular pads and is available in all of our standard shapes and hardness. Our standard pads can also be ordered and made into any custom pad of your choice.
Reddish/Brown colour

Durable but flexible performance

High tear and abrasion resistance

Best quality printing in the long run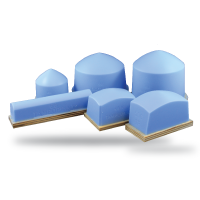 TAMPOPRINT® Antistatic Pads
Antistatic silicone pads are recommended for a quick start to pad printing and for high static charge parts, such as ABS, Polystyrene and Acrylic. It is also great for dry condition environments, especially in Canadian winter months. Our antistatic pads are becoming more popular because of their antistatic properties, high tear strength and long life.
Antistatic properties

Fast start-up printing

High mechanical stability

Suitable for UV inks

Excellent ink absorption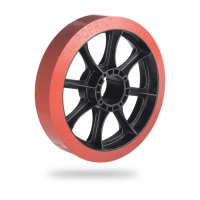 Rotary Pads
The majority of our silicone printing pads are used for transferring an image from a standard printing plate; however, we also manufacture rotary pads that are used to transfer images from a rotary cliche drum. Rotary pads are typically used in high-speed automations, printing round or cylindrical parts, e.g. syringes and high speed bottle cap printing.
Our rotary pads come standard for all TAMPOPRINT® machines but can also be manufactured for any other type of rotary printing machine. Depending on your requirements, we can provide you with the appropriate silicone and hardness to use.
Custom Printing Pads & Assemblies
Should one of our standard pads not suit your application, we can manufacture custom printing pads and/or assemblies regardless of the complexity of your product. For more information, please Contact Us.