If you've been following our blog, you are well aware of the multiple printing, laser etching, and services that we provide. But what happens if you can't afford one of our printing or laser machines? Well we have a contract printing and laser etching/marking service that can solve your issue.
Everything you have come to know and expect from Tampo Canada is now at your fingertips. We have the best quality, and state of the art equipment at your disposal whenever your company requires it.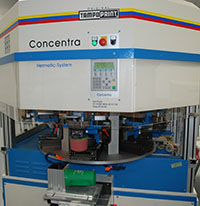 It's as easy as contacting our team of experts with you job specifications. From there we can work with you and your staff to determine the best course, material, and print method for exactly what you're looking for.
Whether it's our standard printing, rotary, or laser we can work with you and your budget to provide you with exactly what your company needs. We not only provide you with the best price, but you can be confident that your needs will be met with the highest quality and on time.
For years we were a supplier of high quality machines, pads, and inks to the printing industry. But through many inquiries, and requests from companies across the nation we began to realize there was a niche that needed to be filled. So after much discussion, we came to the decision that by offering our skills and technology to those out there who couldn't afford to set up their own printing line was yet another way we go above and beyond for our clients.
Tampo has always exceeded our efforts to put our customers first. Our contract printing and laser etching/marking service is perfect for you and your company to receive high quality printing on any material you provide. Our expert staff will work with you to ensure your final product not only meets, but exceeds your needs.